An inexplicable wonder occurred in the temple of Prince Ogievie 1 situated in Evwotubu Quarters in Benin City, the capital of Edo State, last Thursday night which many are seeking for an answer to.
In the late hours of that night from no where a cool breeze blew in his temple which also went across the face of the mystery pond inside the temple and within minutes everywhere began to vibrate as if a quake had taken place.
As the place became calm about 10 minutes later and Prince Ogievie 1 made an inventory of what transpired he discovered that the pond which is always filled with transparent water such that the bottom could be seen clearly was now dark in colour.
The traditionalist while recalling the strange occurrence said: "The whole thing started like a movie scene that night as I and my family members were relaxing when all of a sudden the whole temple was vibrating. There was a feeling that some terrestrial beings, that no one can see, were in our midst in the temple.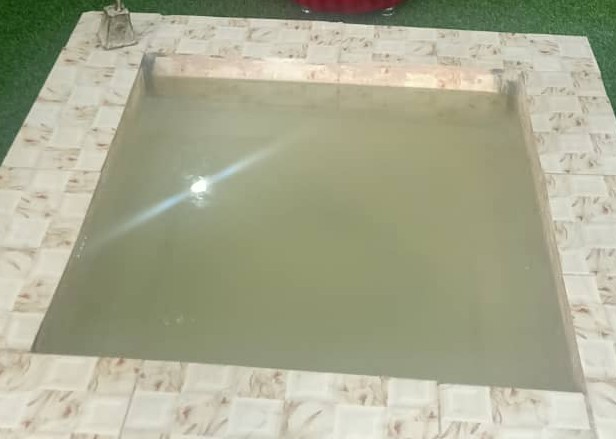 "This occurred for about ten minutes. By the time everything calmed down and I went round to confirm what happened I noticed that the plain/transparent water in the mystery pond in the temple had changed colour to dark whereby the bottom of the pond was not visible in contrast to what was obtainable in the past.
"Uptil this moment, Saturday afternoon, the situation has remained the same. That's the pond is still dark in colour."
Asked what he felt could have been the cause of the occurrence, Prince Ogievie 1 said that it may be that the ancestors want to pass a message across to the world.
"I am dutifully waiting for what this will eventually end up in. My belief is that the ancestors want to send a strong message to humanity. The answer to this puzzle would be given by the ancestors in a couple of days."
Going further, Prince Ogievie 1 said that he is cocksure that the message will also include good tidings for some individuals who seek for knowledge and solutions to their problems no matter the magnitude of the problem.
"My advice is that anyone who has any unresolved crisis bothering him, no matter the size of the problem, should get in touch with me within this next few days as I know that such individuals will be blessed with solutions to whatever is their problems."
It would be recalled that a few years to the Edo governorship poll 2020 he prophesized that the incumbent governor of the state, Godwin Obaseki, would be reelected despite all the odds against him.
Also that same year (2018) he gave a message of an impending world calamity(Covid-19 worldwide pandemic).
His contact is 08066599411. You can get more information about him via http://www.princetonyogievie.com.ng