Encomium galore was poured on AIG Sholla David of Zone 5 Command Headquarters, Benin, on Tuesday afternoon(January 26th, 2021) during the commissioning of a conference/lecture hall which his management constructed.
The AIG disclosed that he undertook the project among several other reasons to give the command a facelift.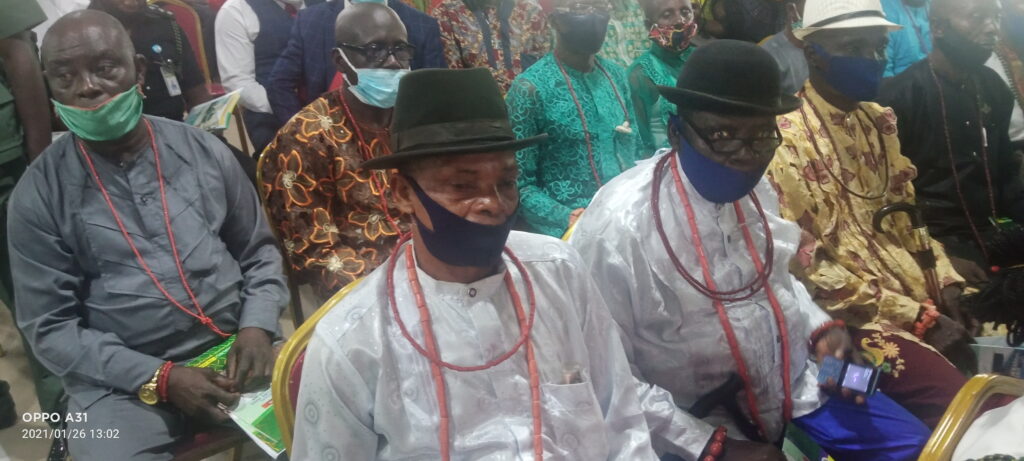 Among the dignitaries from Edo and Delta States who witnessed the commissioning of the hall(IGP Mohammed Abubakar Adamu Conference/Lecture Hall) were the Obi of Agbor in Delta State, His Royal Majesty, Ifezuomo; the Ojuaga 1 of Egbema Clan in Ovia South West Local Government Area of Edo State, His Royal Highness, Henry Ekebilegha Binidodogha, government officials, businessmen and women among others.
There was delicious meal, choice drinks and melodious music supplied by the police band to spice up the occasion.
In a chat with reporters after the epoch event, High Royal Highness, Henry Ekebilegha Binidodogha the Ojuaga 1, said: "It is a very nice thing. Today, I had the privilege to meet with some important personalities in Edo and Delta States.
"I give kudos to the AIG Zone 5 for coming up with this innovation which will surely go a long way I boosting the profile of the zone."
HRH Binidodogha called for the cooperation of traditional rulers with the security agencies in ensuring that community policing gets a filip.
He praised His Royal Majesty, Omo N'Oba N'Edo Uku Akpolokpolo, Oba Ewuare II, for his leadership qualities.