International Christian Centre (aka Home for The Needy Foundation), situated in Uhogua, Ovia North East Local Government Area of Edo State, is currently in a dilemma on how to locate the lady that dumped a day old baby in it's facility which also accommodates Internally Displaced Persons (IDPs).
Speaking with Popular News, Pastor Evelyn Omigie, who is a minister in the church and doubles as a caregiver in the IDPs camp, said that the whole thing came to the community as a rude shock, an absurdity.
She said: "It was last week, Friday(5th May, 2023) that we woke up around 11am to discover the baby by the entrance to our facility where he was dumped by a yet to be identified lady. A note was placed by the baby's side saying: 'I cannot take care of him. I don't have anything and I don't want to kill him. Please, take care of him. He is now your own.'
"The note was so pathetic. We had to notify the policemen in our police post about it. Their most senior officer, an Inspector, took inventory and reported the case to the DPO of the nearest police station. The baby was taken to the station where an entry was made. The police said that the baby should be in our care even as they do their investigation. The baby is doing well.
"Truth of the matter is that the lady that dumped the baby is not one of our members here. We don't have any case of somebody who is pregnant out of wedlock because we keep a high standard here. We're genuine Christians and we abide by the scriptures. The person who did this must be an outsider who must have heard tales of how caring we are for people.
"This is our first experience of such a thing. The first time that it will occur here. It is a common occurrence in other areas."
Omigie had words of counsel for young ladies on how to live a life of purity as stipulated in the Holy Book, the Bible.
"I want to say that girls don't want to keep themselves. There is a high level of immorality. That's why I thank God for everyone here. With the words of God they hear we teach them morals. It's good to keep yourself from all these vices. If you're not ready to care for a child stay clear from a man who is not your husband.
"If you're ready to care for a child then you get married, give birth to a child and stay with the child than going into what the Bible call fornication. You go and sleep with iman that's not your husband and then you become impregnated. Some of them, may be they don't even know the man that impregnated them or the man rejected the child.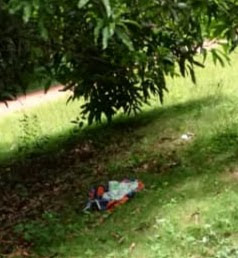 "As a result of that some even throw the baby away. I want to talk to young girls that are not married not to emulate this kind of thing. It's very wrong. It is unacceptable by God and humanity for you to just live like dog. You sleep with different men. What kind of irresponsible lifestyle is that?
"Please, young girls, keep yourself, wait until you get married so that you give birth to your baby in a honourable way. This is not honourable at all. I want to admonish everyone that's not married. This is a bad example."
Giving support to the disclosure of Pastor Omigie on how the dumped baby was discovered that fateful morning, Jeremiah, a Protocol and Security minder in the facility said that the lady that dumped the child did it in the belief that the baby would receive the best care from the management of the facility.
Meanwhile, Pastor Solomon Folorunsho, the General Overseer of the Church, made an appeal to the mother of the child to step forward to breast feed the child which is what he needs urgently at this early stage of his life. He promised not to let her fall into harm's way.
He appealed to people of goodwill to come to the aid of the Home for the Needy by offering help in whichever way to cater for the newborn and many others who are in dire need of help.