Come Friday and Saturday, February 26th and 27th, 2021, all roads will lead to the home of Prince Ogievie 1 situated in Evbuotubu Quarters, Benin, where he will be hosting his annual Ugie Festival.
Prince Ogievie, for those who know him, is a man who sees tomorrow. He has in the past prophesized spot on certain issues of great interest around the world.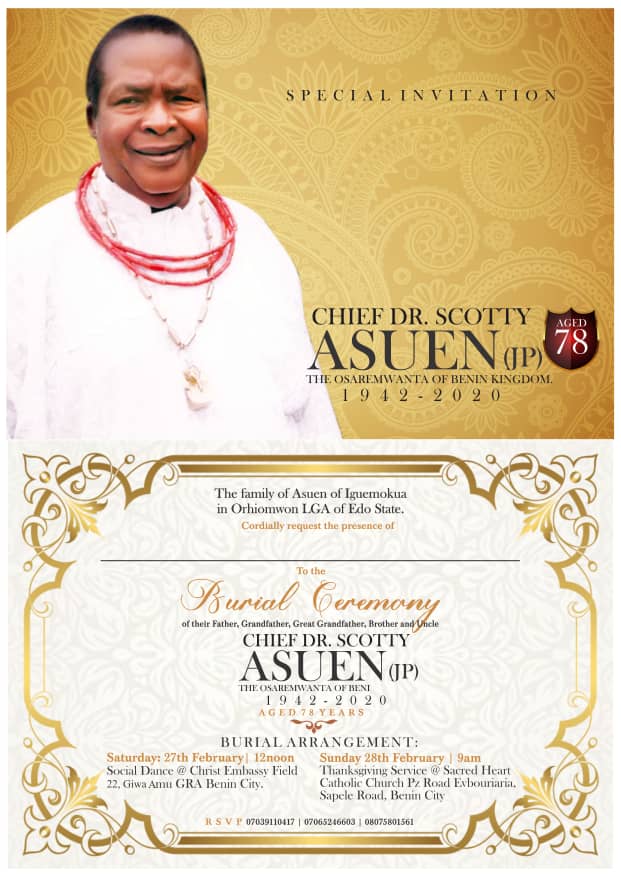 In January 2018, he prophesized that the incumbent governor of Edo State, Godwin Nogheghase Obaseki, would be elected for a second tenure in office despite all the booby traps that would be set in his path.
He also foretold that "if Governor Aminu Waziri Tambuwal of Sokoto State is not allowed to emerge as the presidential flag bearer of the Peoples Democratic Party (PDP) in a free and fair primaries the party will lose the 2019 general election."
A year ahead of the US Presidential Poll in 2020 he foresaw the exit of Donald Trump from office.
Same year he prophesized that "a worldwide sickness which will shake the whole world is looming in the horizon."
On the forthcoming Ugie Festival Prince Ogievie 1 said: "this year's edition of the Ugie Festival is as it is usual in every edition coming with good tidings for all and sundry.
"The mystery pond will attend to every issue that guests bring before it. You either get a necklace, candle, chaplet, handkerchief, olive oil, chain, holy water etc that is appropriate to solve whatever problem a guest is facing.
"Many prophecies would be given on the way forward for Nigeria and Nigerians. Just bring your problem and watch as the gods give you a permanent solution to whatever it is the problem confronting you ranging from fruit of the womb, job security, enduring love and marriage, wealth creation without ritual, good health, success in all undertakings etc.
"In the past many people with different ailments have received their healings from the mystery pond in my house."
Going forward he revealed that "since late 2019, the ancestors have revealed who will succeed Godwin Obaseki as the next governor of Edo State. But I am not too keen to make public the revelation at this moment as I feel that it is too early to do so."